Learn: All About Leather
Posted by CRAIG MORRISON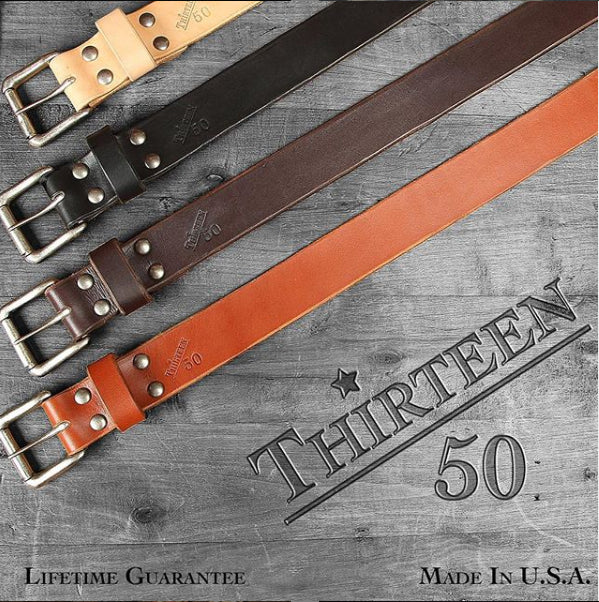 The different grades and types of leather
Full grain… Suede… Vegetable tanned… Chrome tanned…
What is the difference in these? What is best? What does Thirteen50 use?
Spoiler! Thirteen50 uses full grain vegetable tanned leather for their products
Leather Grades
Full Grain Leather
Here at Thirteen50 it is all we use. This is the leather that is going to develop the sought-after patina. Full grain may contain some blemishes from scarring or bug bites. These give each piece a unique, natural and rugged look.
The density of fibers makes it stronger compared to a similar thickness of other grades. The black section in the photo is the most important part. This is why full grain leather is more durable. Those tightly packed fibers prevent water from seeping down and causing rot. The final product while using full grain leather is guaranteed to last. Especially if cared for properly.
Left: 9 oz full grain

Right: 14 oz full grain
Need to know how to correctly take care of your leather? Click here
Top Grain Leather
Top grain is what you get if a hide is severely blemished. They remove the highest density fibers. Products created from top grain are still of good quality and have some good durability. It lacks the waterproof and patina capabilities of full grain.
Split Leather
This is what is left over after we purchase the full grain. Also what most "genuine" leather products use. It produces products that degrades quickly and is fairly weak. This is what mass-produced leather items are most likely made from. The surface is typically sprayed to create a "leather" texture. Further harming the leather as it removes its ability to breathe properly.
Bonded Leather
Bonded leather is going to last for a day. Maybe. Made by shredding scraps, mixing with filler, and compressing. All sealed with a polyurethane coat. This is hardly considered leather.
Tanning Process
Many types but we are going to focus on the main two
Vegetable Tanned
An art form on its own. Each hide takes approximately 50 days to produce. It is an environment friendly process that creates the products we know, and you love.
This skilled tradition has passed down from generation to generation. It has led to the creation of tanneries with a rich history. The craftsmen who work here are extremely knowledge and put a ton of care into their craft. We take their wonderful work and turn it into a timeless product. A beautiful cycle that will withstand the test of time.
P.S. These products only get better as they age. Like a baseball glove they need time to break in.
Chrome Tanned
A process that allows business to mass produce leather products. It is fast and easy to produce. But as a consumer what does this mean. Your leather products are going to be less durable and be more pliable. They also do not develop a patina. In some situations the process can use environmentally harmful chemical or acids.